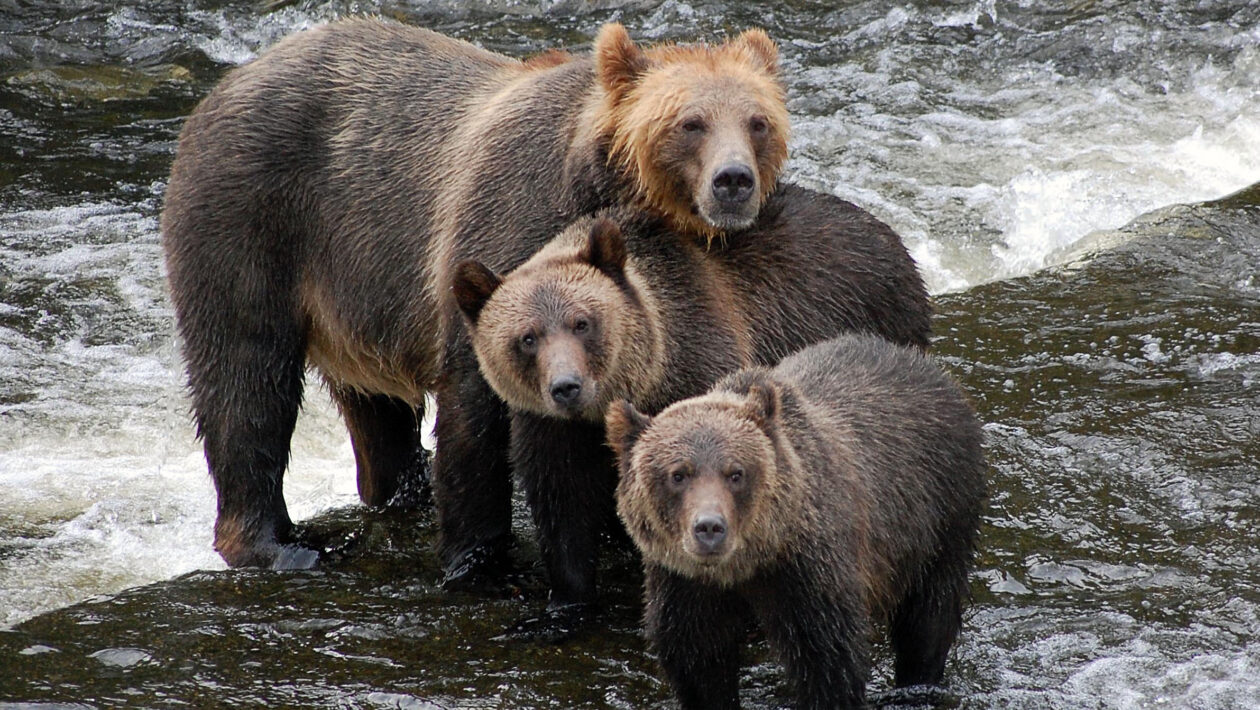 Gilakas'la! Welcome to the best place in B.C. to experience grizzly bear & whale watching tours.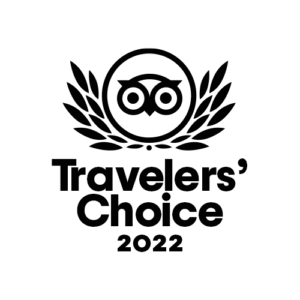 "We had an amazing stay at Knight Inlet. As soon as we arrived off the sea plane, there was wildlife to see in all directions. A humpback whale came right into the inlet, we saw a black bear, lots of grizzlies and dolphins. I would encourage anybody to stay as it was a magical experience."
RHIAN L - UK 2022
Grizzly bear viewing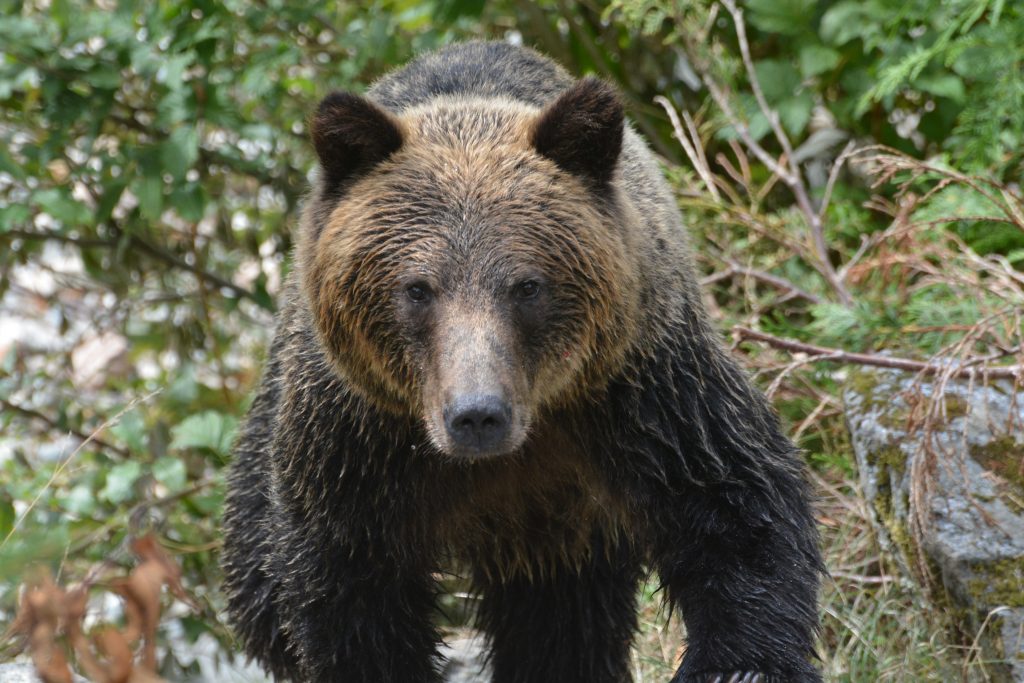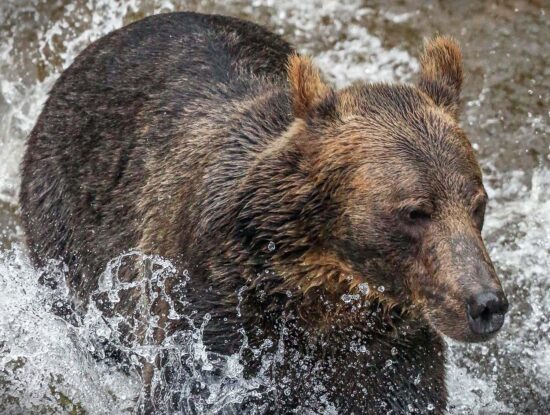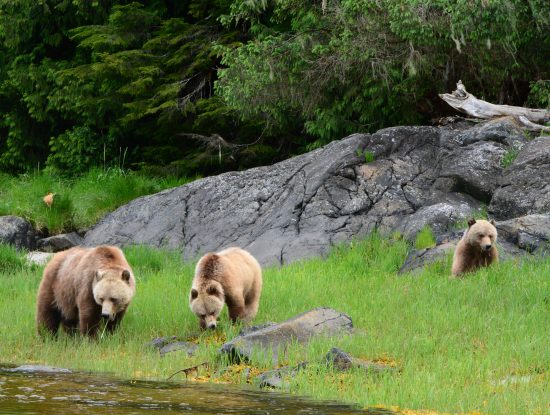 Grizzly bears are abundant in Knight Inlet in the fall, but it is not the only season when they frequent the area around our lodge.
Starting in April, both black and grizzly bears begin emerging from hibernation and head to the cove and the estuary to feed on succulent spring growth. Spring also offers a wonderful opportunity to see newborn cubs as they venture out into the natural world. Even in mid-summer, when some of the bears have moved into nearby timber clearings to feast on berries, we see several bears each day as they move in and around the cove and the estuary.
Throughout our bear viewing season, we offer bear viewing excursions from small skiffs, allowing you to experience these wonderful animals in their natural environment.  Beginning in late summer pink salmon begin surging their way up the Inlet, attracting dozens of grizzlies who converge on the spawning grounds to fatten up in preparation for the coming winter.  In late August we open our viewing platforms located at prime fishing grounds for the bears.  The viewing platforms are designed to provide you with safe and comfortable viewing.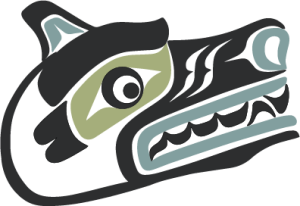 Whale watching and Marine tours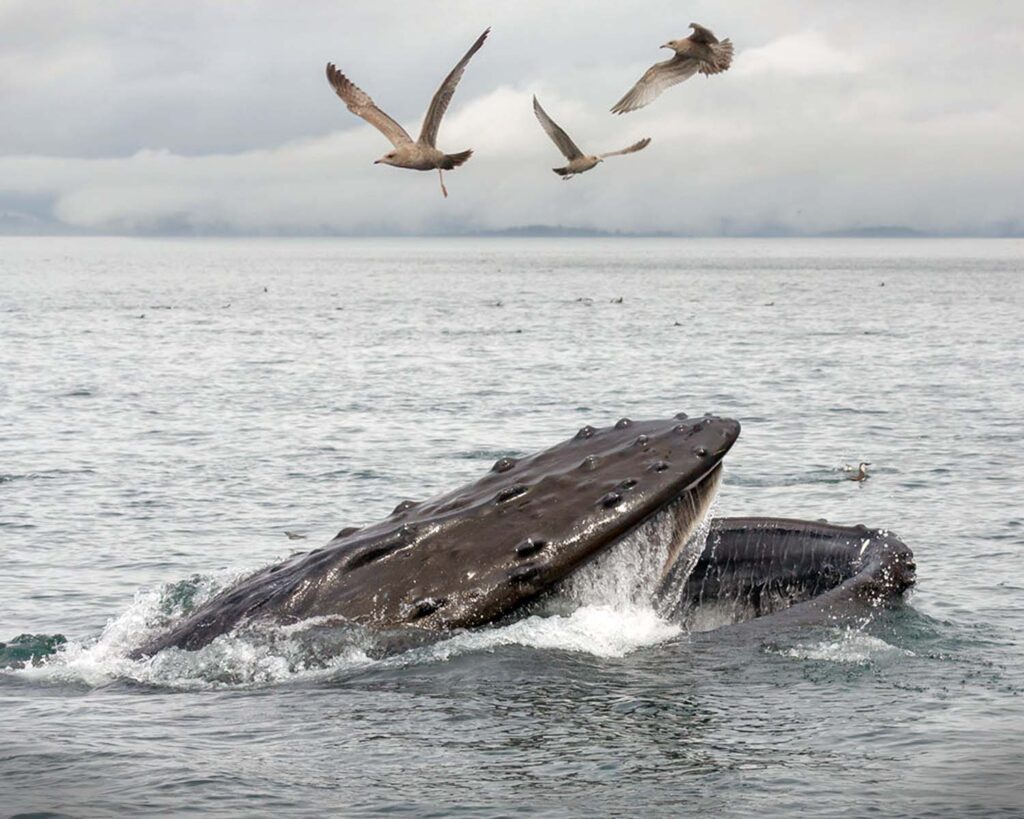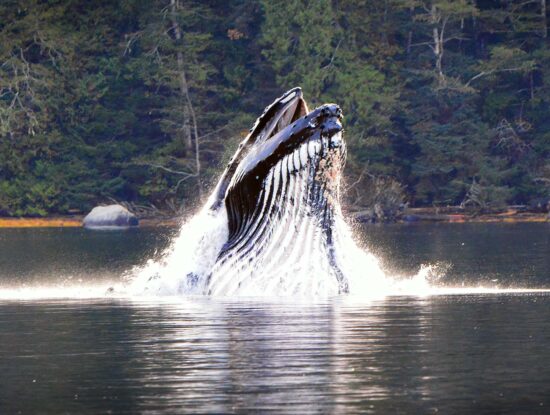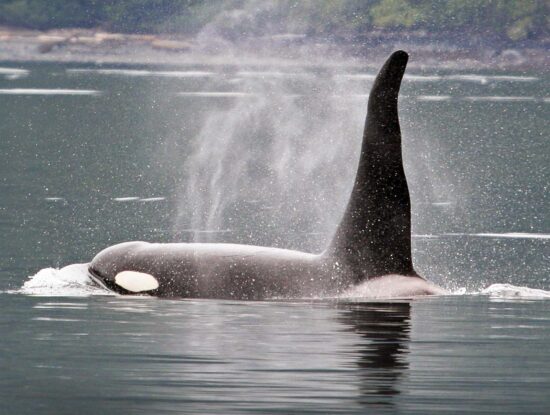 Knight Inlet Lodge is one of a very few locations in the world where you can combine marine tours, whale watching and grizzly bear viewing over your 4 – 6 day stay with us, in complete comfort. From May to mid-October, as part of our wildlife and nature photography excursions in our 4 – 6 day packages, we offer daily marine wildlife watching tours in magnificent Johnstone Strait.
Beginning in mid-July, the focal point of our marine tours is a visit to the boundaries of Robson Bight Marine Orca Whale Sanctuary to view orcas, our magnificent and iconic west coast whale. This area is frequented by 16 different pods of orca, which is why it is considered one of the world's best places to observe and photograph these magnificent animals.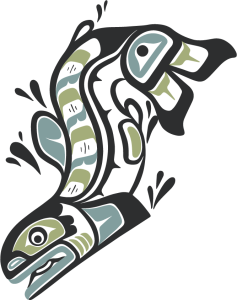 Included Optional Tours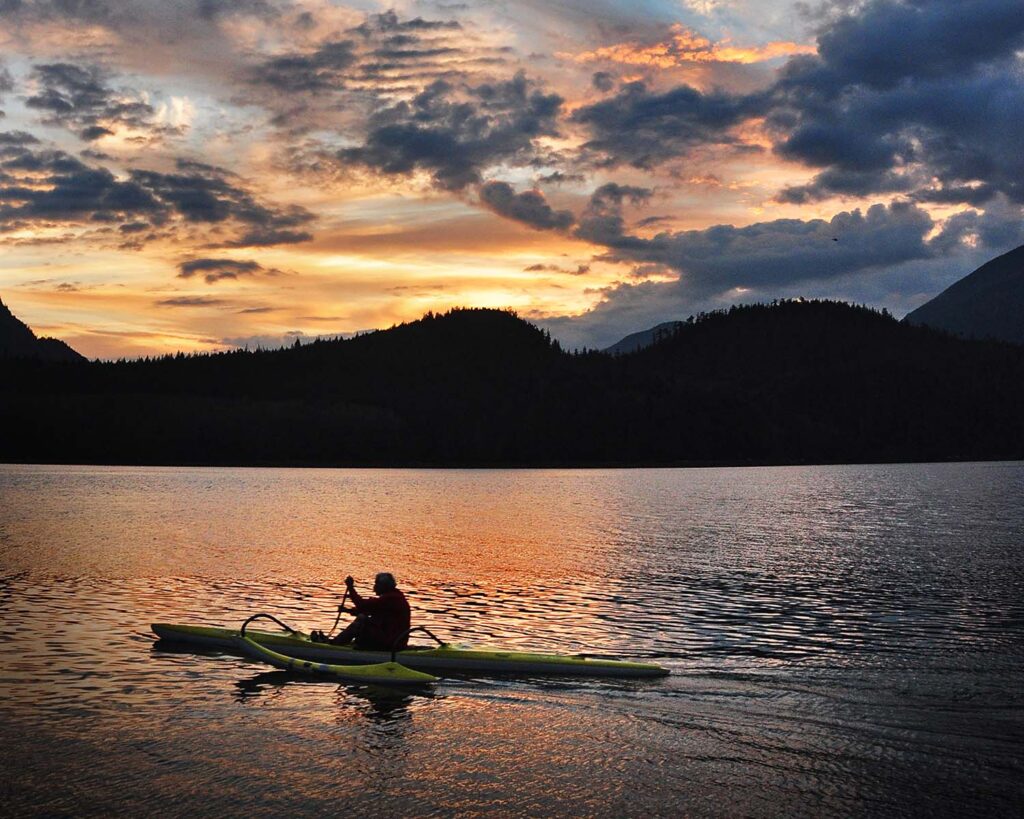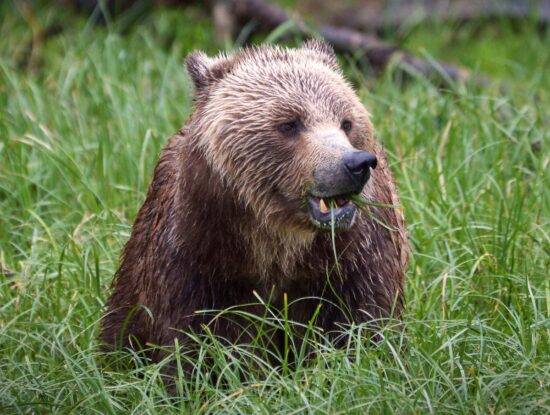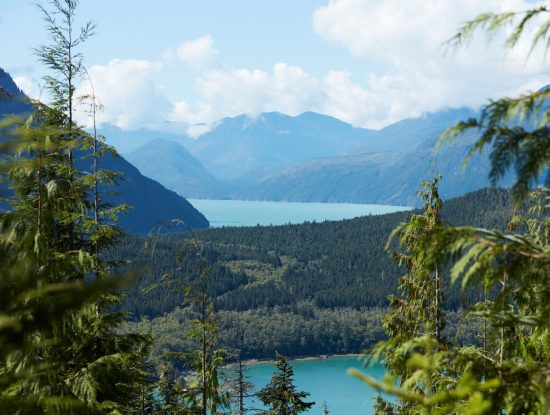 In addition to our bear and whale watching tours, we offer other excursions to enjoy during your 4–6 day stay with us.
Inlet Cruise
Take a spectacular 2-hour scenic cruise through Knight Inlet, enjoying its natural wonders – waterfalls plummeting out of sheer rock faces, ancient glaciers carving through the mountains, and wild rivers teeming with life. Our guides will keep you entertained and informed with local history, lore and legend. Discover 'Spirit Water', and visit the mystic Annuhati River.
Walking Tours
Take a walk in an ancient, old-growth rainforest in the pristine Kwalate valley, a 20-minute boat ride from the lodge. We will walk up the valley along the beautiful Kwalate River to see giant moss-covered trees and stunning waterfalls, and learn about the rainforest and the various plants and wildlife that abound here.
This 4 – 8 kilometre pleasant hike at a gentle pace offers a handful of rocky sections and a steep section at the beginning, giving it a taste of adventure. We usually plan this walk for the morning, returning to the lodge in time for you to enjoy lunch on the front deck and then opt for an afternoon activity if you wish.
Interpretive Tracking Tour
On this tracking tour, we are observing bear habitat we don't normally get to see on our bear-viewing tours. Your guide will take you on a slow drive down an old forestry road looking for bear sign, which can include day beds, bear trails, "rub" trees and tracks, and tell you about the fascinating research into bears that we support. This tour is a fascinating way to experience being on the ground in bear country, and follow in their footprints.
Walk Above the Clouds
On this tour, we follow a raised wooden boardwalk to a scenic lookout with spectacular panoramic views of Knight Inlet. Access to the trail is via 4 x 4 vehicle along an old mountain road – getting there is part of the adventure! With a total walking time of about an hour, this is one of our easier walking tours.
Big Cedar Hike
Walk through dense young forest with limited understory as it gradually progresses upwards and deeper into older forest. Tree species on the Big Cedar Hike include Western Red Cedars, Western Hemlock, Sitka Spruce and even a few Douglas Fir high on the ridge. You will see cedar trees that show signs of being Culturally Modified Trees that have been marked or used by Indigenous people for hundreds of years. You will learn of the ecological significance of Western Red Cedars, and how historical logging practices and targeting of these valuable trees has threatened these ecosystems and species. As a bonus, a variety of birds are typically heard here in the spring and early summer.
Sea Kayaking
Drifting quietly in your sea kayak, you will see grizzly bears foraging along the shoreline near our lodge. Never kayaked before? No problem. We operate in a sheltered cove in calm water, and our trained guides will coach you in the fundamentals of sea kayaking so that you feel confident to paddle these seaworthy craft. We use stable, roomy, single and double kayaks designed by Necky Kayaks.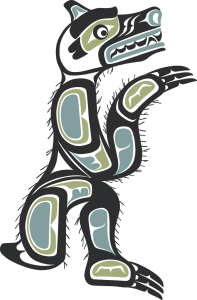 What is included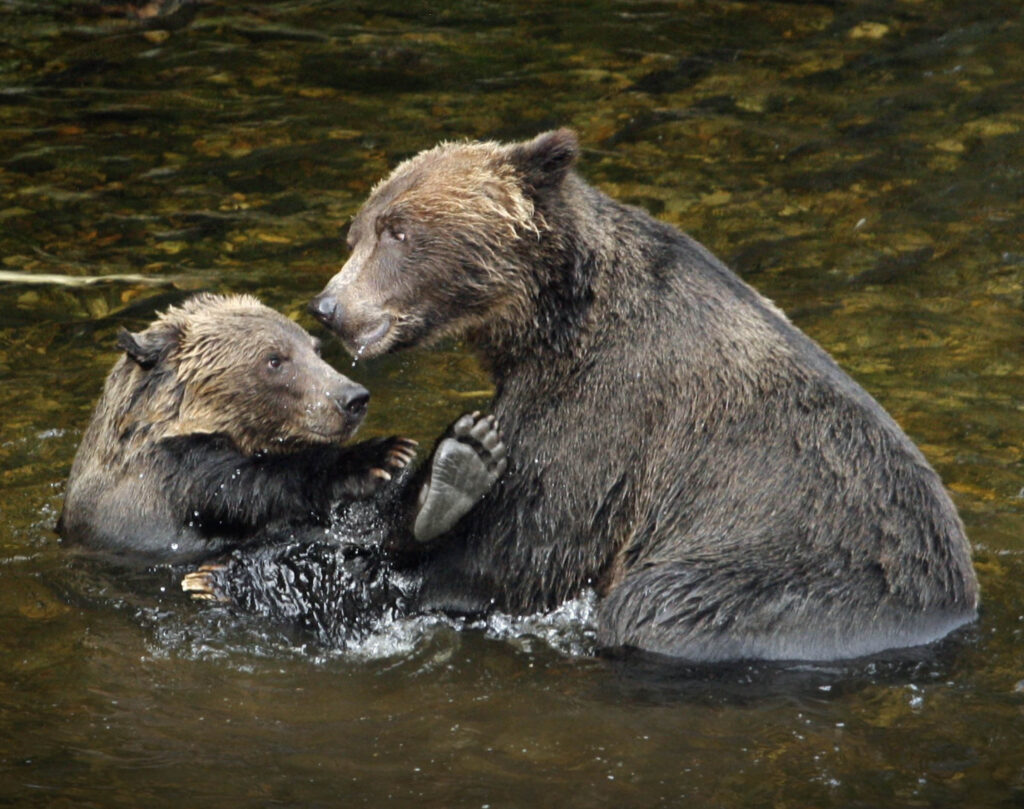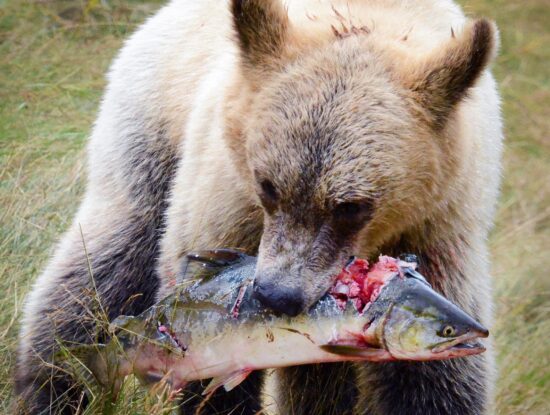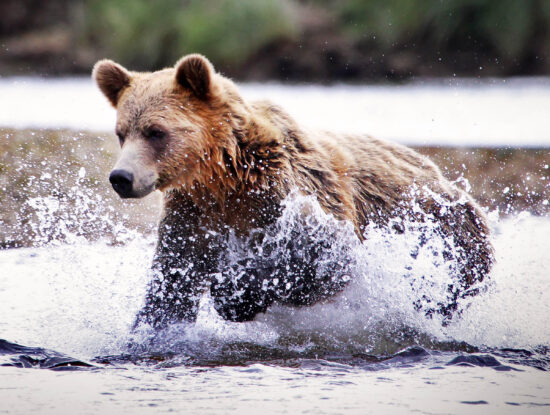 Our 4 to 6 night stay includes all of the following:
One night's accommodation at the Comfort Inn & Suites in Campbell River
For guests who fly to Campbell River Airport, return transfers from the airport to your hotel and to the float plane base for your flight to Knight Inlet Lodge
Return float plane flights from Campbell River to our lodge
Your choice of three, four or five nights' accommodation at the lodge
Welcome and wildlife orientation
All meals and snacks while at the lodge
Complimentary wine with dinner
Evening interpretive programs
Your choice of optional tours, subject to weather, length of stay and availability
Rain gear and rubber boots
B.C. Provincial Hotel Tax
Environmental Levy
Staff gratuity
Please Note:
All of our packages can start on any day of the week, including weekends.
Tours to our viewing stands to watch grizzly bears feed on salmon do not start until late August. Prior to that, bear viewing is by boat.
Want more information?
For more information on what is included in the 4 – 6 day package, the level of fitness and preparation required, availability, and how to book, please see our 'Plan Your Visit' page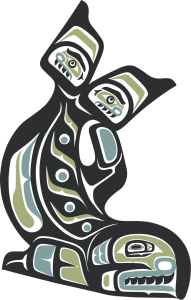 Conservation
As an Indigenous-owned organization, and a member of the BC Wilderness Tourism Association, we work hard to reduce, reuse, and recycle, and are strong advocates for sustainable fisheries and wildlife management policies in the Great Bear Rainforest.
Want more information?
For more information on what is included in the 2 – 3 day package, the level of fitness and preparation required, availability, and how to book, please see Plan Your Visit