Knight Inlet Lodge is an Indigenous-owned wildlife viewing destination in the heart of the Great Bear Rainforest of British Columbia.
About Us
In operation since the mid-1990s, we bring a wealth of hospitality and wildlife viewing experience, cultural knowledge, and environmental stewardship capability to our operations.
The five partner First Nations who now own the Lodge – Da'naxda'xw Awaetlala, Mamalilikulla, Tlowitsis, Wei Wai Kum and K'ómoks – have been stewards of their traditional territories, including the region of Knight Inlet, for thousands of years. This ancient knowledge and experience is all now part of the Lodge experience, our conservation efforts, and our contribution to research and responsible environmental stewardship.
Our visitors come from all over the world to experience the incredible sight of wild bears and whales in our remote location, accessible only by sea or by air. Our west coast-style floating lodge is tucked deep in the sheltered waters of Knight Inlet, yet is only a short floatplane ride from Campbell River, on Vancouver Island. We offer comfort, fine food, spectacular scenery and of course, the wildlife viewing experience of a lifetime, right from our front door.
As an Indigenous-owned, fly-in wildlife viewing lodge, at Knight Inlet Lodge we take our corporate and environmental stewardship responsibilities seriously. We work hard to reduce, reuse, and recycle, and are doing everything we can to minimize our environmental footprint.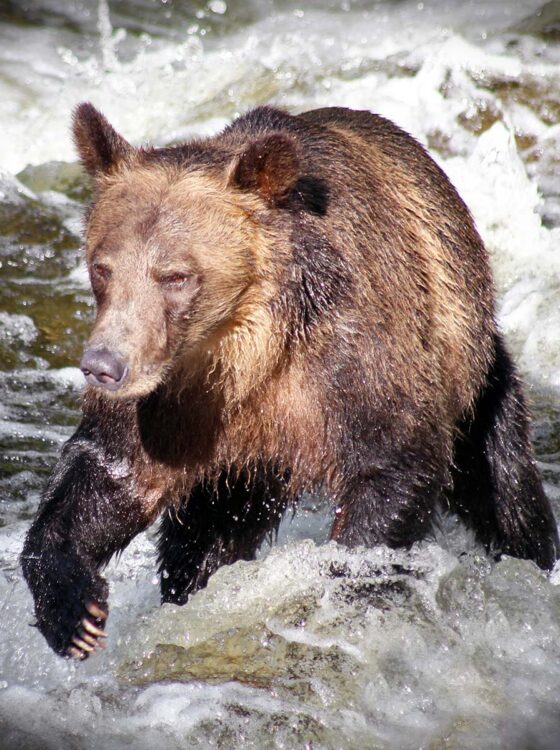 Committed to Conservation
Knight Inlet Lodge strongly advocates for sustainable fisheries and wildlife management policies in the Great Bear Rainforest. We support independent, peer-reviewed research on bear-human interactions, and successfully helped to end the grizzly bear trophy hunt in British Columbia in 2017.  We are engaged in wild salmon enhancement and restoration projects as food security for grizzly bears in our area.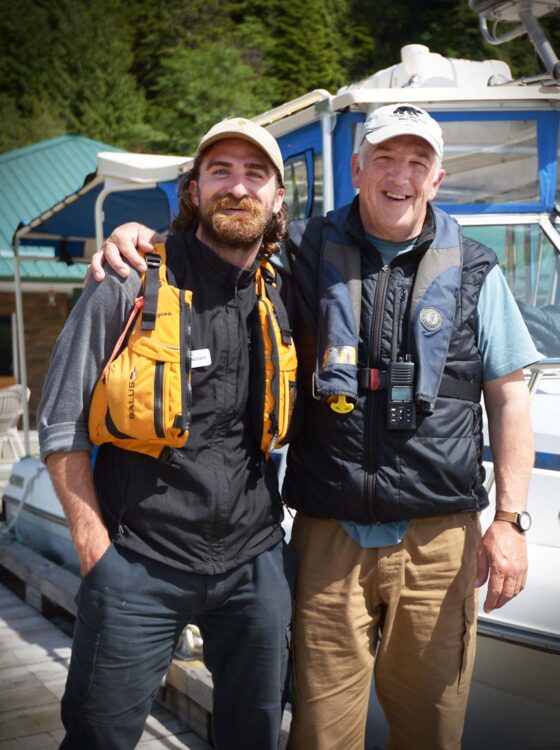 A Dedicated Team
We are fortunate to have a tight-knit team of dedicated, like-minded people, with years of experience managing and operating our remote wildlife viewing destination at Knight Inlet Lodge.
From our on-site managers to our guides, our chefs, to our lodge operations support staff, we are all here to offer our guests the highest level of quality service and expertise.
We all can't wait to welcome you to our working home away from home!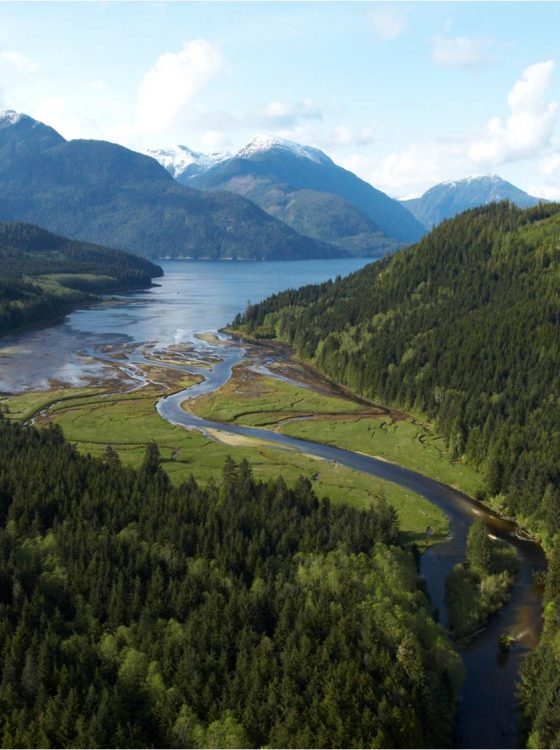 Decades of experience, millennia of stewardship
Now owned by an Indigenous partnership of five First Nations whose stewardship and conservation knowledge and experience goes back to time immemorial, Knight Inlet Lodge, founded in the 1990s, has been a hallmark of not only hospitality, but bear and salmon conservation and responsible environmental stewardship for decades.
4, 5, or 6 Night Packages
Grizzly Bear & Whale Watching
Knight Inlet Lodge offers unique spring-to-fall experiences of both grizzly bears and whales during your 4 to 6 night stay at our lodge. Choose from a range of options to see bears and marine wildlife in one of the most magnificent natural settings in the world, surrounded by ancient forests and snow-capped mountains.
Learn More
2 or 3 Night Packages
Grizzly Bear Viewing
Knight Inlet Lodge offers unique spring-to-fall experiences of grizzly bears in the heart of the Great Bear Rainforest. Take bear tours and other excursions during your 2 to 3 night stay at our lodge, located in a sheltered cove in one of the most magnificent natural settings in the world.
Learn More